Capacity
2-8 people
(+9th extra person +80Є)
An unforgettable Day Sailing Cruise with BabaSails Yachting in Halkidiki
Indulge your cravings for adventure with an extraordinary full-day yacht cruise experience in Halkidiki. Immerse yourself in the warm embrace of Greek hospitality as you embark on a journey that promises to be both exhilarating and deeply relaxing.
Picture yourself sailing through the serene beauty of the Greek coastline, where turquoise waters meet lush forests, and the sun kisses your skin. This full-day cruise offers a unique opportunity to explore secluded, picturesque spots that are off the beaten path, all while relishing traditional, authentic Greek flavors.
Your summer experience
Your day begins with a morning departure from the Marina Miraggio Thermal Spa Resort, Porto Carras, or Neos Marmaras. A seasoned skipper will guide you to Kelyfos Island, a hidden gem, where you'll have the chance to swim in its crystal-clear waters. Throughout the journey, you'll bask in the intimate ambiance of a small-group tour, making your experience even more special.
Continue your odyssey as you sail towards the enchanting Spalathronisia Islands. Along the way, you'll witness some of the most breathtaking landscapes on the Sithonia Halkidiki peninsula, and savor the catch of the day at a local taverna.
The adventure doesn't stop there; your next stop is the renowned Proto Carras secret coves. These exclusive, hidden spots offer opportunities for swimming, snorkeling, and ultimate relaxation. Many of these idyllic locations are inaccessible by land, adding a touch of exclusivity to your journey.
As the day unfolds, you may also experience the thrill of sailing, driven by the whims of the favorable wind. Finally, your voyage concludes with a return to your original departure point, just as the sun sets over the horizon, leaving you with memories that will last a lifetime.
Join us on this unforgettable full-day yacht cruise and let the beauty of Halkidiki enchant you
Departure Point: Marina Miraggio Thermal Spa Resort (or Porto Carras or Neos Marmaras)
Map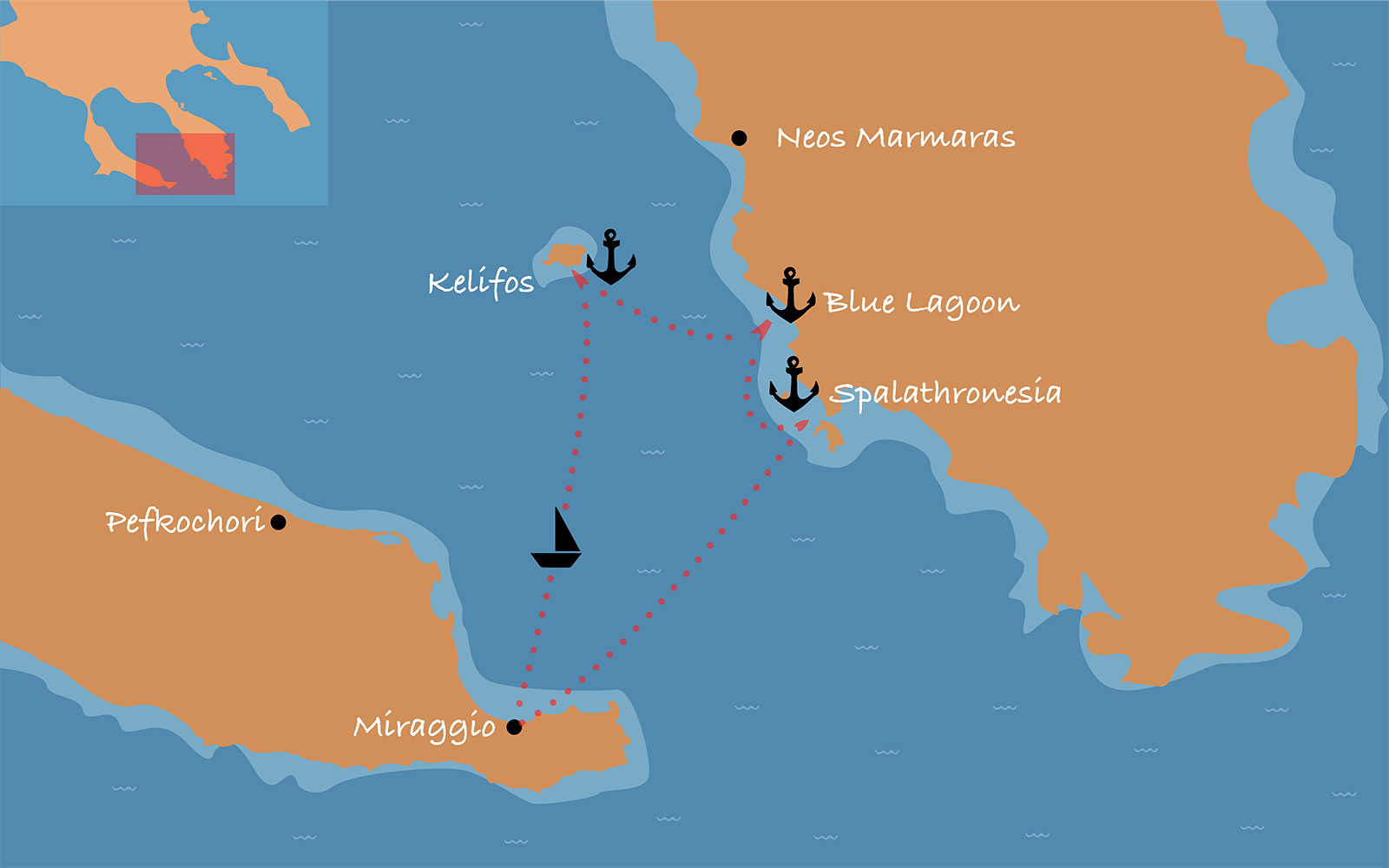 Photos
Includes
Skipper
Boat Fuel
High-end music system
WiFi Internet
Snorkeling equipment
Photos GoPro
Spotify
Boat & Port fees
Not Includes
Lunch – snacks
Transfer to marina (extra)
Yacht transfer (extra)
Exquisite wines (extra)
Professional photography (extra)
Special decoration for weddings, birthday (extra)
Birthday cake (extra)
or BOOK ONLINE ( deposit paid only)